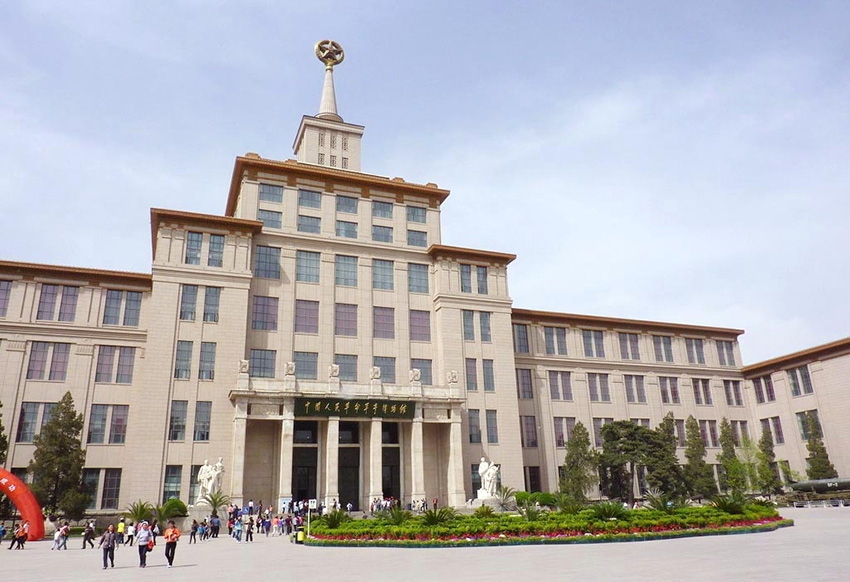 The Military Museum of the Chinese People's Revolution is located on the extension of Chang'an Avenue to the west of Tiananmen Square in Beijing. It was planned to be built in 1959. It is one of the top ten buildings in the capital to present the 10th anniversary of the National Day. On March 12, 1959, approved by the Central Military Commission of the Communist Party of China, it was officially named the Military Museum of the Chinese People's Revolution.
The Military Museum of the Chinese People's Revolution is the only large-scale comprehensive military history museum in China, covering an area of more than 80,000 square meters, a building area of more than 60,000 square meters, and an exhibition area of more than 40,000 square meters. The main building is 94.7 meters high, with 7 floors in the center and 4 floors on both sides. As of the end of 2012, the museum has 22 exhibition halls and 2 exhibition squares. The Military Museum has collected more than 340,000 cultural relics and collections. Among them, 1793 pieces of national first-class cultural relics, more than 250 pieces of large-scale weapons and equipment, more than 1,600 pieces of artwork, and 2,551 gifts were received in foreign military exchanges. Among them are the gilt bronze crossbow machine, the iron anchor of the Zhenyuan ship, the Ye Ting command knife, the 38-type rifle, and the first tank of the People's Liberation Army and other important historical relics.

The construction of the exhibition building of the Military Museum of the Chinese People's Revolution started in October 1958 and was completed in July 1959. The internal preview was held in October of the same year and officially opened in August 1960.

The Military Museum of the Chinese People's Revolution is a deputy army-level unit, subordinate to the General Political Department, the administrative department is directly under the General Political Department, and the professional department is the General Political Propaganda Department. There are 7 middle-level units and cadres, including the office, the political department, the management office, the exhibition and publicity office, the editorial and research office, the cultural relics office, and the design office. After the establishment adjustment, the business department will be changed to the Ministry of Education of Exhibition Management, Exhibition Research Department, Cultural Relics Collection Management Department, Exhibition Design Department, and Security Department. The military museum also has an academic committee, an art committee, a cultural relic appraisal committee, and a military museum of calligraphy and painting.