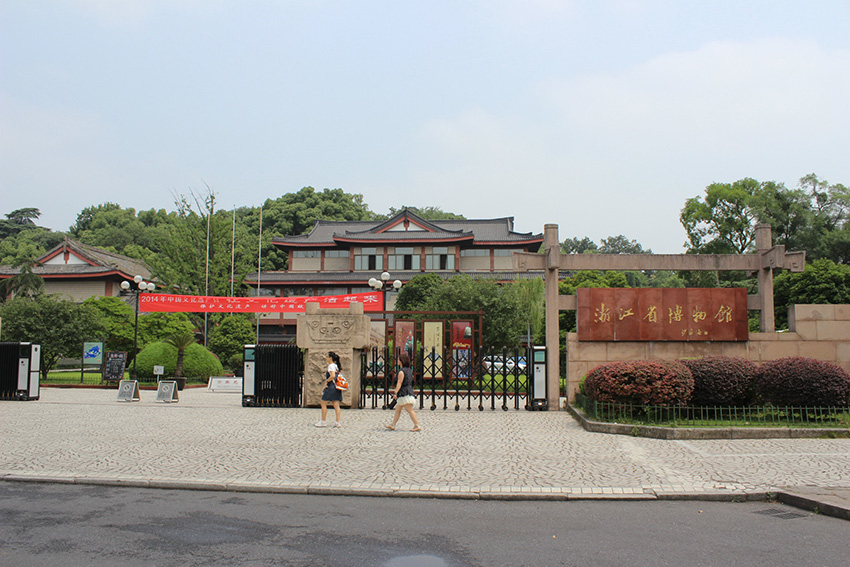 The Zhejiang Provincial Museum was founded in 1929 and was originally named "West Lake Museum". Located at the southern foot of Gushan Mountain in West Lake, Hangzhou, it has picturesque and pleasant scenery. Scenic spots such as Remnant Snow on the Broken Bridge, Autumn Moon in Pinghu, and Yue Tomb are adjacent to it.
Part of the old site of the Zhejiang Provincial Museum is Wenlan Pavilion, a famous library in Jiangnan. In 1993, the reconstruction and expansion project of the Zhejiang Provincial Museum was completed. The new museum covers an area of 20,400 square meters, and newly added historical relics museum, celadon museum, calligraphy and painting museum, coin museum, crafts museum, gift museum, Lu Xiaguang art museum, and Chang Shuhong art Pavilion, Ming and Qing Furniture Pavilion, Boutique Pavilion and other ten exhibition halls.

The pavilion building is composed of single buildings and corridors that are rich in Jiangnan regional characteristics, forming a unique pattern of "garden in the garden, garden in the museum". The pavilions, pavilions and pavilions are connected by a long corridor, hidden in the lake, light and mountains. Paradise Hangzhou is a dazzling new cultural attraction.

The Zhejiang Provincial Museum is the largest comprehensive humanities museum in Zhejiang Province that integrates collection, display and research. There are more than 100,000 cultural relics in the collection. Among them, pottery, lacquerware, wood, bone and ivory products from the Hemudu culture, jade and silk from the Liangzhu culture, bronzes from the Yue Kingdom, celadon from the kilns of the Yue kiln, Longquan kiln, and Southern Song Dynasty official kiln, Kuaiji mirror and Huzhou mirror, The works of Zhejiang calligraphers and painters from the Ming and Qing Dynasties are all well-known gems.

The Zhejiang Provincial Museum exhibits colorful cultural relics, multi-level and multi-angle display of Zhejiang's seven thousand years of ancient history. Cultural relics have been exhibited in exhibition halls such as historical relics hall, calligraphy and painting hall, celadon hall and craft hall for many years. At the same time, the boutique museum occasionally launches various high-grade thematic exhibitions imported from home and abroad. The Zhejiang Provincial Museum also has the Huang Binhong Memorial Room in Qixialing and the Sha Menghai Calligraphy Art Museum on Longyou Road, forming a colorful series of celebrity houses. The Zhejiang West Lake Art Museum, which was completed at the end of 1999, opened up new horizons for the Zhejiang Provincial Museum.

In recent years, with the launch of a series of high-end international academic seminars, cultural relic exhibitions in Germany, France, Japan, Singapore and other countries have been successfully held, large-scale academic publications "Oriental Museum" and "Zhejiang Seven Thousand Years" etc. The publication of a series of cultural relics books has gradually expanded the influence of the Zhejiang Provincial Museum and has become one of the museums with high reputation both at home and abroad.